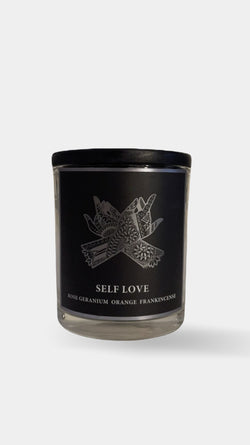 Self Love Candle
〔 自愛美滿魔法油蠟燭 〕
有完整、完滿的愛來包圍自己,好好地珍惜身邊現有的一切和身體,並調節自我的思想和心情,更加愛惜自己﹐來渡過豐富、精力充沛的日子。
- 香氣 - 
玫瑰天竺葵、橙和乳香

- 成份 - 

棉芯、不含 GMM 的大豆蠟、有機椰子油、有機精油和滿月下充電的水晶

-用法-
能用蠟燭燈和火來燃燒融化蠟燭外,這有機大豆蠟能安全地塗在皮膚提供保養和滋潤,能把魔法咒語隨身地用在身上!
- 使用須知 - 

1. 點燃前取下所有包裝
2. 在通風情況下燃燒,附近不要擺放易燃物
3. 太長的燭芯修剪預留約0.8公分就可以
4. 利用蓋子或滅燭器熄滅燭火,不可用口吹熄
5. 如果火焰看起來太高和/或冒煙,請熄滅蠟燭
6. 睡覺前請記得熄滅蠟燭,不可點著睡覺
7. 孕婦或有特殊醫療條件者,請在使用前諮詢醫生
8. 本產品僅供外用,請放置於幼童不易取得之處。
9. 因個人膚質不同,若使用時有任何異常或不適症狀,請立即停止使用,並洽詢皮膚科醫生。     
10. 如不慎誤入眼睛時,請勿搓揉,立刻用大量清水沖洗,若仍有不適請儘速就醫治療。
-
To wrap yourself in love. To be complete and whole and fulfilled. If one practices living a life of tenderness when it comes to oneself, abundant energetic resources reveal themselves. Remind yourself of the preciousness of the body you inhabit, the mind you utilize, and the heart you hold dear, by following a way of life which respects and adores the self. It is possible to be whole.

Rose Geranium, Orange, & Frankincense.
-

 

Ingredients

 

- 
Cotton wick, GMM-free soy wax, organic coconut oil, proprietary blend of organic essential oils encasing a crystal charged under the full moon.

Rich in nutrients, liquid soy wax is safe to smooth onto skin. Trim the wick & burn a full pool of wax each lighting. Plunge wick into liquid wax to extinguish it smoke free.
Cautions:
1. For external use only. Keep out of reach of children.
2. Stop using if irritation occurs or allergy symptoms appear and consult your doctor if symptoms persist.     
3. Avoid direct contact with eyes, if contact occurs, rinse with water.

4. Remove all packaging before lighting and never leave a burning candle unattended.