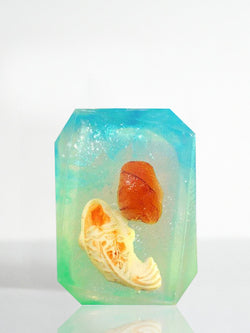 SEA OF INTUITION (PISCES)
雙魚座是星座家族的夢想家和治療師,雙魚座的能量喚醒了同情心、想像力和藝術性,消除了分裂我們的界限。 鑲嵌在裡面的是瑪瑙石,被稱為"動力之石",可以提升領導力、耐力和勇氣。 這顆明亮石頭的振動會加速你的動力並幫助你明確你的目標。 它激發雄心、動力,並讓您展現在生活中前進所需的一切。

氣味:
它充滿了靈感來自雙魚座靈魂與茶樹、白茶和姜精油的混合物。 當您感到有點疲倦時,這種混合物有助於平靜您的神經,並在您的情緒變得太熱而無法處理時促進冷靜和理性的思考。 它還可以促進身體健康並減少炎症。

成份:
椰子油、可持續棕
註: 圖片只供參考,一切以實物為準
-
Pisces is the dreamer and healer of the horoscope family, Pisces energy awakens compassion, imagination and artistry, dissolving the boundaries that divide us. Embedded inside is the stone Carnelian, known as the "Stone of Motivation" and promotes leadership, endurance, and courage. The vibration of this bright stone will accelerate your motivation and aid you to clarify your goals. It stimulates ambition, drive, and allows you to manifest what you require to move forward in life.

SCENT DESCRIPTION
It is filled with a blend inspired by the pisces soul with Tea Tree, White Tea, and Ginger essential oils. This blend helps calm your nerves when you feel a little frayed, and promotes calm and rational thinking when your emotions become too hot to handle. It also promotes good health and reduces inflammation.

Ingredients:
Coconut Oil, Sustainable Palm Oil, Safflower Oil, Glycerine, Purified Water, Sodium, Oat protein, Essential Oil, and Mica.