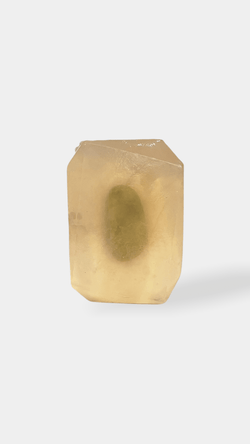 有機草本系列|2.5oz 香皂
Green Grimoire 可撫平皮膚,並像個人保護盾,建立個人力量和內心的平靜感,使負能量無法靠近;適合壓力大及油性皮膚人士。
水晶
蛇紋石
有機草本

天然靛藍粉可鎮定發炎,痤瘡,濕疹,酒渣鼻,皮炎和其他皮膚刺激。
有機胡蘿蔔粉可幫助鎮定炎症,痤瘡,濕疹,

玫瑰痤瘡

,皮炎和其他皮膚刺激,促進膚色更年輕,年輕。
胡蘿蔔粉富含維生素

A

和

C

,有助於增加人體膠原蛋白的生成。
有機桉樹精油放鬆緊張的肌肉。
有機茶樹油具有茶樹油的殺菌特性,有助於抵抗油性皮膚。
有機茶樹油可通過減少瘙癢和刺激來幫助舒緩皮膚乾燥。

成份
有機靛藍粉(Indigofera Tinctoria),有機胡蘿蔔粉,有機茶樹精油,有機桉樹精油,有機椰子油,有機棕櫚油,植物來源的甘油,純淨水,氫氧化鈉,山梨糖醇丙二醇,山梨醇油酸酯,燕麥蛋白 。
註: 圖片只供參考,一切以實物為準
-
Organic and Natural Collection |2.5oz Soap
Green Grimoire was created with the intent to clam and soothe the skin and create a more radiant complexion. 
CRYSTAL
Serpentine has a powerful healing energy that works to create an energetic and protective shield around the body.
ORGANIC HERBS

Natural Indigo Powder calm inflammations, acne, eczema, rosacea, dermatitis and other skin irritations.
Organic Carrot Powder to assist in calming inflammation, acne, eczema, rosacea, dermatitis, and other skin irritations to promote a more radiant, youthful complexion.
Carrot Powder is rich in vitamins A and C and helps increase collagen production in our body.
Organic Eucalyptus Essential Oil relaxes tense muscles.
Organic Tea Tree Oil is antiseptic properties of tea tree oil that contributes to its ability to combat oily skin
Organic Tea tree oil can help soothe dry skin by reducing itching and irritation.
INGREDIENTS
Organic Indigo Powder (Indigofera Tinctoria), Organic Carrot Powder, Organic Tea Tree Essential Oil, Organic Eucalyptus Essential Oil, Organic Coconut Oil, Organic Palm Oil, Vegetable Origin Glycerine, Purified Water, Sodium Hydroxide, Sorbitol Propylene Glycol, Sorbitan Oleate, Oat protein.