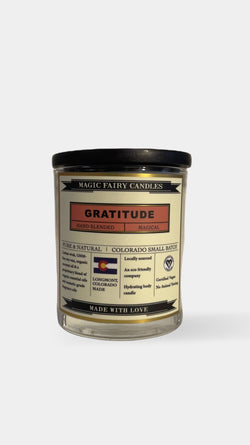 Gratitude Candle 8.5oz
〔 感恩魔法油蠟燭 〕
感謝以前的你來過這裡,知道感恩的滋味;生活永遠是對給予和接受不斷善意與感激。Nag Champa 與水瓶座時代聯繫在一起,虔誠的人在抵達神聖的大廳時將其作為愛和崇敬的甜蜜祭品獻上。 混合著琥珀的溫暖和迷迭香的芳香,您會立刻記住並了解自己的同情和感激之情,感謝過去得到的一切並繼續下去,勇敢地展開生活。

- 香氣 - 
琥珀、迷迭香和雞蛋花

- 成份 - 

棉芯、不含 GMM 的大豆蠟、有機椰子油、有機精油

-用法-
能用蠟燭燈和火來燃燒融化蠟燭外,這有機大豆蠟能安全地塗在皮膚提供保養和滋潤,能把魔法咒語隨身地用在身上!
- 使用須知 - 

1. 點燃前取下所有包裝
2. 在通風情況下燃燒,附近不要擺放易燃物
3. 太長的燭芯修剪預留約0.8公分就可以
4. 利用蓋子或滅燭器熄滅燭火,不可用口吹熄
5. 如果火焰看起來太高和/或冒煙,請熄滅蠟燭
6. 睡覺前請記得熄滅蠟燭,不可點著睡覺
7. 孕婦或有特殊醫療條件者,請在使用前諮詢醫生
8. 本產品僅供外用,請放置於幼童不易取得之處。
9. 因個人膚質不同,若使用時有任何異常或不適症狀,請立即停止使用,並洽詢皮膚科醫生。     
10. 如不慎誤入眼睛時,請勿搓揉,立刻用大量清水沖洗,若仍有不適請儘速就醫治療。
-
Behold this bold life.
You have been here before. You know the taste of gratitude upon the tongue. Your life is forever an unfolding appreciation for the kindnesses both given and received. Long before
Nag Champa became associated with the Age of Aquarius, it was presented by the devoted upon arrival at hallowed halls as a sweet offering of love and reverence. Commingled with the warmth of amber, and aromatic rosemary, at once you will remember and know the depths of your own compassion and gratitude.
- Notes

 

 -

 



Amber, Rosemary, & Nag Champa.
- Ingredients - 
Cotton wick, GMM-free soy wax, organic coconut oil, proprietary blend of organic essential oils.
Rich in nutrients, liquid soy wax is safe to smooth onto skin. Trim the wick & burn a full pool of wax each lighting. Plunge wick into liquid wax to extinguish it smoke free.
Cautions:
1. For external use only. Keep out of reach of children.
2. Stop using if irritation occurs or allergy symptoms appear and consult your doctor if symptoms persist.     
3. Avoid direct contact with eyes, if contact occurs, rinse with water.

4. Remove all packaging before lighting and never leave a burning candle unattended.