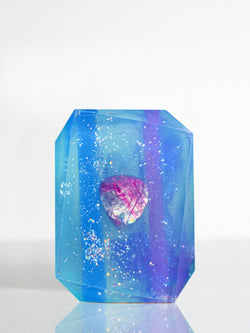 TRUTH SEEKER (VIRGO)
處女座能量教會我們服務、做無可挑剔的工作並優先考慮幸福——我們自己、我們所愛的人和地球。這個星座由掌管交流的水星掌管,這意味著出生在處女座的人經常將精力集中在控制、淨化和組織上。我們想通過添加顏色條來捕捉整個酒吧的這種向前移動的能量。

每條條上還鑲嵌了一塊彩虹螢石,視覺上這塊石頭體現了秩序,不同顏色的層次似乎完美地對齊。石頭可以提高心智能力,幫助快速組織和處理信息,並可以使原本混亂的情況變得清晰和穩定。

氣味:
我們想將這款酒吧與一種受地球輕盈啟發的香氣搭配,竹子和柚木的組合為這款酒吧帶來清新、放鬆的香氣。非常適合放鬆身心。

成份:
椰子油、可持續棕櫚油、紅花油、甘油、純淨水、鈉、燕麥蛋白、香油、雲母和可生物降解的閃光粉。
註: 圖片只供參考,一切以實物為準
-
Virgo energy teaches us to serve, do impeccable work and prioritize wellbeing—of ourselves, our loved ones and the planet. This sign is ruled by Mercury, the planet of communication which means those born under Virgo often focuses their energy on control, purification and organization. We wanted to capture this forward moving energy throughout the bar by adding in strips of color as seen.

Each bar also has an embedded Rainbow Fluorite, visually this stone embodies order, layers of different colors seemed to align perfectly. The stone heightens mental abilities, assisting in rapid organization and processing of information, and can bring mental clarity and stability to an otherwise chaotic situation.

SCENT DESCRIPTION
We wanted to pair this bar with an aroma inspired by the lightness of earth, a combination of Bamboo and Teak gives this bar a refreshing, and relaxing aroma. Perfect to relax your mind and body.

Ingredients:
Coconut Oil, Sustainable Palm Oil, Safflower Oil, Glycerine, Purified Water, Sodium, Oat protein, Fragrance Oil, Mica, and Biodegradable Glitter.