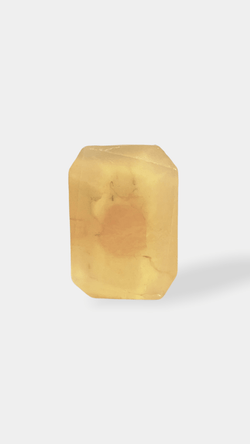 有機草本系列|2.5oz 香皂

Desert Bloom 可增強你現在擁有的,帶有柑橘香甜的香氣,可以激發愉悅的心情和樂觀情緒,並為身體作 Energy Detox。

水晶

橙色方解石

有機草本

有機橙精油是一種天然抗抑鬱藥,可增強您的能量並創造積極的氛圍!
胡蘿蔔粉富含維生素A,B1,B2,B3,B6,B12,C,E,K,鈣,鐵,鉀,磷和鎂,有助於增加人體膠原蛋白的生成。
膠原蛋白是一種對皮膚彈性非常重要的蛋白質。 它可以修復和調理皮膚,減少皺紋和疤痕,改善血液循環,增加彈性,並為皮膚提供β-胡蘿蔔素。
金盞花可促進傷口癒合,促進皮膚年輕化,並具有總體舒緩皮膚的作用。
成份
有機胡蘿蔔粉,有機金盞花花瓣和有機橙香精油有機椰子油,有機棕櫚油,植物來源的甘油,純淨水,氫氧化鈉,山梨糖醇丙二醇,山梨油酸甘油酯,燕麥蛋白。
註: 圖片只供參考,一切以實物為準
-

Organic and Natural Collection|2.5oz Soap

Desert Bloom was created with the intent brighten your skin and your energy with the positive boosting benefits of Organic Orange Essential Oil and Orange Calcite. 

CRYSTAL
Orange-Calcite is a powerful energy amplifier and cleanser. It will enhance all the gifts that you possess and get rid of the pollution that's present in your body and light body.

ORGANIC HERBS

Organic Orange Essential Oil is a natural antidepressant and works to boost your energy and create an aura of positivity!
Carrot Powder is rich in Vitamin A, B1, B2, B3, B6, B12, C, E, K, calcium, iron, potassium, phosphorus, and magnesium and helps increase collagen production in our body.
Collagen is a type of protein that is highly important for skin elasticity. It repairs and tones the skin, reduces wrinkles and scars, improves circulation, increases elasticity, and provides the skin with beta carotene.
Calendula promotes wound healing, skin rejuvenation, and have an overall soothing effect for the skin.
INGREDIENTS
Organic Carrot Powder, Organic Calendula Flower Petals, and Organic Orange Essential Oil Organic Coconut Oil, Organic Palm Oil, Vegetable Origin Glycerine, Purified Water, Sodium Hydroxide, Sorbitol Propylene Glycol, Sorbitan Oleate, Oat protein.