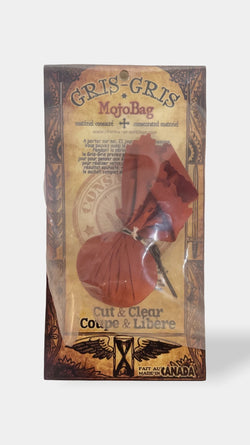 CUT & CLEAR Mojo〔得到解放〕
戴在人身上的魔法袋可以保護穿戴者並為他帶來好運,它對佩戴者的能量敏感,只能一人使用。

- 功用 - 
✣ 切除關係
✣ 得到解放
✣ 鼓起勇氣
✣ 摧毀依賴和不健康狀況
我們將在魔法袋上加一點汗水、眼淚或唾液,建議女性放在左側佩戴,男性放在右側佩戴,可以在睡覺時將其放在枕頭下;魔法袋一旦被穿戴者激活,就永遠不能被其他人打開或觸摸,以免削弱其魔力。

-
This is a talisman or amulet which protects its wearer and brings him luck and which usually designates a small cloth bag worn on one's person. 
Cut-Link, Liberation, Promotes the courage to destroy dependencies and unhealthy situations.
Traditionally, it is customary to sensitize it to the energies of the wearer. We will therefore add to the fabric of the bag: a little sweat, a tear, saliva, or a drop of urine. In some communities it was recommended that women wear it on the left side, men on the right side. It can also be placed under the pillow during sleep. Once consecrated and activated (sensitized by the wearer) it should never be opened or touched by someone else, at the risk of weakening its Magic.